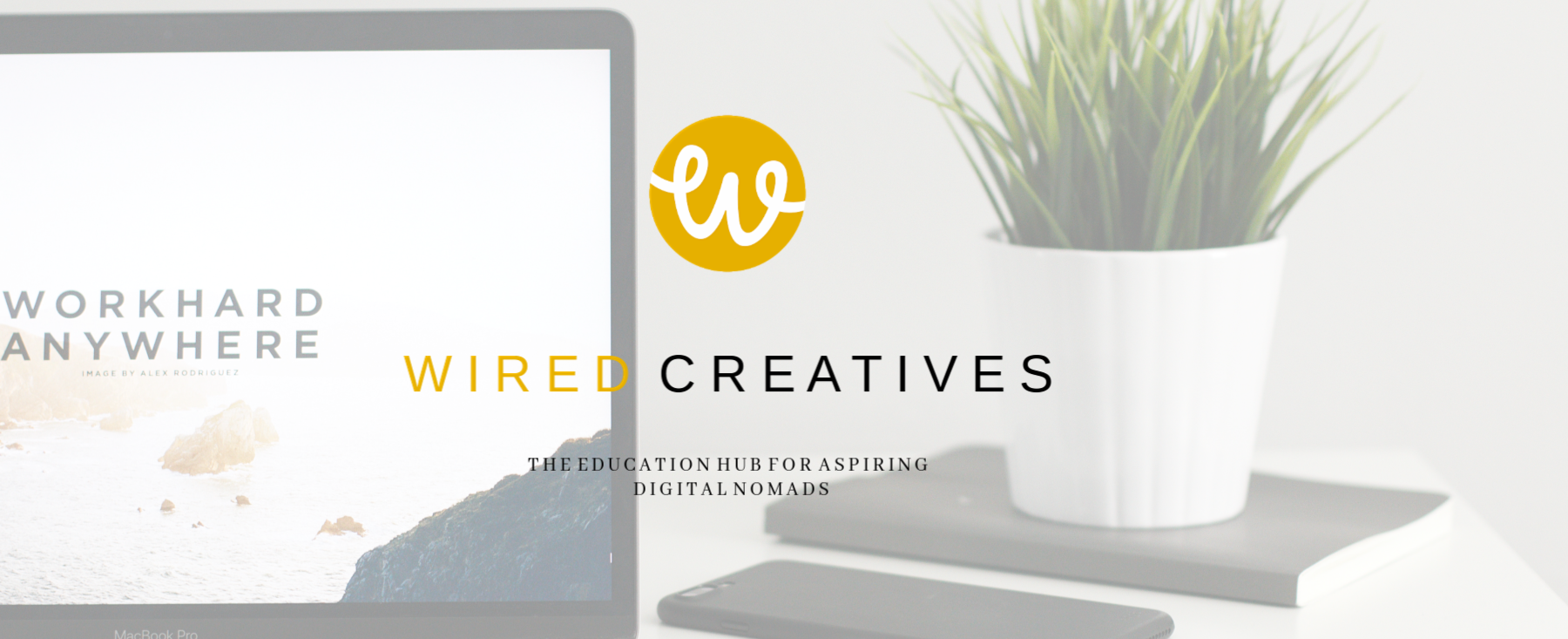 WHAT IS WIRED CREATIVES?
---
The world is rapidly changing... Technology and the internet seem to be taking over (let's not deny it!). And while this kind of progress can be pretty terrifying, it's also opened up so many new opportunities for people all around the globe. Now more than ever, people have been able to create their own jobs online and be able to work from anywhere in the world!
So how does Wired Creatives fit into this?
We created Wired Creatives as an education hub for aspiring digital nomads; to help equip you with the digital skills and know how to work online.
Wired Creatives provides a range of self-paced courses on various topics, each with the goal to help you gain new skills that will benefit you when creating something for yourself online. But not only that... Wired Creatives members are a part of a solid community of individuals all around the world who work online from home or while traveling the world. It's a place for online creatives to come together, help each other out, get feedback, and collaborate!
IS WIRED CREATIVES FOR YOU?
---
Wired Creatives was definitely not created with everyone in mind...
It can be hard to please the masses! And we believe that serving a specific group of people, means we can serve better overall! But let's see if it's the right fit for you...


Wired Creatives is for you if:
If you would like to work online but don't know where to begin;

If you have a strong desire to be location independent;

If you're wanting something different out of life, but your friends and family don't quite 'get it', so you need to find a community of people who support you and get you!;

If you're a creative with a bunch of ideas, but you're not sure on how to turn it into some kind of business online;

If you already have an online business or blog but it's not seeing the results/growth you want.
Do any of these sound like you!? If so, you will fit right in! We would love to have you as a Wired Creative!
Wired Creatives is not for you if:
You have no desire to create online work for yourself;

If you don't like taking the time to learn new things;

Already well established companies and corporations;

If you are completely happy in your current workplace and don't want any change.
HOW DO YOU BECOME A WIRED CREATIVE?
---
All our members have access to our exclusive member's only community over on Facebook! That's where you can get all the support you need from other Creatives and start collabing with others if you want too!

So, wanna be a part of the Wired Creatives Community? It's simple, enrol in our 'Get Wired Bundle' and you will be a part of it all! Here's a sneak peak of the bundle below...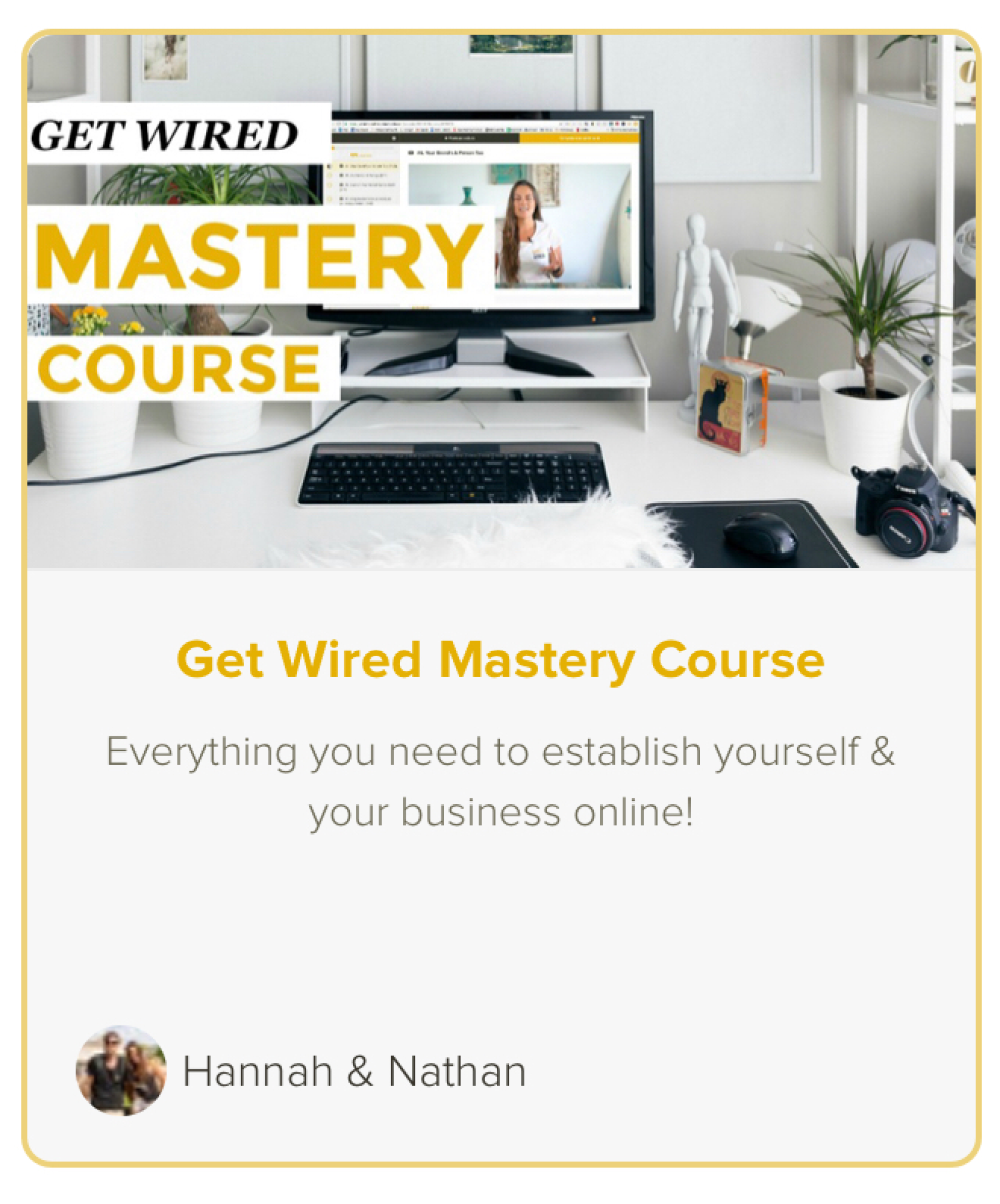 ABOUT THE FOUNDERS
---
Nathan and Hannah are the two founders of Wired Creatives. This engaged duo are in their late twenties from New Zealand and have been traveling the world while working from their laptops for 5 years! They've been running their blogs, social medias, and digital marketing company while traveling through countries like Indonesia, Philippines, Colombia, Canada, Austria, France, Pakistan and the list goes on. Over the years they've been able to build up a solid social media following due to their respective personal brands; World Nate and Intrepid Introvert and have worked with many travel, clothing and lifestyle brands to promote their products and services. You can read more about them and their credentials here.

Nate and Hannah created Wired Creatives to provide aspiring digital nomads with a community to thrive in and seek help and support when needed. Their main course offered within Wired Creatives is the 'Get Wired Mastery Course' which takes you through how they built their meaningful personal brands from creation to monetisation, and provides steps for you to create your own. The Get Wired Mastery Course is available within the Get Wired Bundle Nate and Hannah created which includes additional resources to compliment the course. Find out more about the Get Wired Bundle here.
HERE'S WHAT OUR MEMBERS SAY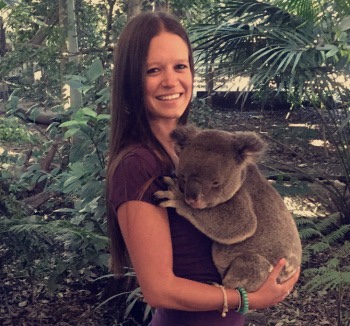 "Huge shoutout to Hannah and Nate for creating Wired Creatives and an even bigger thanks to them for helping me take the leap and create my own brand so I can follow my dreams and travel the world FULL TIME. Honestly, I always wondered how others were able to travel when they want and where they want while making money at the same time.
Not only did Wired Creatives teach me how that is possible, but the community has been so inspiring and helpful throughout this new journey of mine! Thanks Hannah and Nate - I couldn't have done it without you!"
- Michelle, New Jersey, USA - http://www.worldlyexplorer.com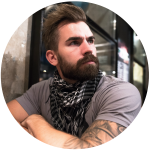 "Structure, routine and strategy, ladies and gentlemen. Those 3 elements have made me enjoy the ride so much more, and I see and do MUCH more in the places I visit, when I stick to the plan. (Thanks again Wired Creatives) Thanks to Wired Creatives, I now have a much better and more efficient routine. And THAT is what you need as a creator and digital vagabond. Believe me - that was my biggest struggle, and the overwhelming realm of social media can seem intimidating when you are starting out! WC gave me the kick up the behind I needed, when I was almost at the point of giving up creating what I wanted to create.I know I will stay on the road as a digital vagabond, and I made a promise to myself of hurrying up slowly, and keep working on my brand. The clarity gained, the structure I now have thanks to WC makes it much easier and more enjoyable.
Ive done research, Ive tried other programs, but this is all I ever looked for in one neat, well made package. Really! I have my own lovely webpage now, I stick to my upload schedule on Youtube (2 videos every week), and I have 20 something drafts for blogposts, ready to be scheduled once I launch my blog on my webpage. MOMENTUM!
Thanks guys"
- Daniel, Norway - https://www.danielbryn.com/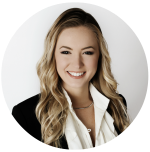 "Marketing was a new-found passion of mine that I discovered in college. After graduating, I went straight into working a 9-5 office job. Within two years, I was burnt out and found myself wishing I had not started this lifestyle at such a young age. I remember thinking I have so much potential, creativity, and passion for what I do, and I was stuck in a small business with two other employees who were twice my age. I tried to convince myself I knew work is not always fun, but I found myself seeing friends going to happy hours or Instagram influencers promoting and traveling the world. I remember thinking I was miserable with where I was at with my life compared to everyone else.
This past January I started absorbing all the information that Wired Creatives provided me with, and I could not have been more awestruck by everything I was learning. The freedom, the ability to work remote, and the flexible hours were all very attractive. Eventually, after months of doubting myself and my ability to branch off on my own, I gained the courage through Wired Creatives to start my own freelance marketing company.
It was very scary thinking about leaving the security of this job, but as it turns out, it was not as terrifying as I made it seem to be in my head.

Now, I work completely remote, and best of all, I still do all the marketing for the small business I was working at in the past! Along with that, I have taken on three new clients in the span of a couple months. Without Wired Creatives I don't think I would have ever gained the courage to begin my journey of becoming a freelance marketer"
- Catherine, Colorado, USA - https://www.dausdigital.com/